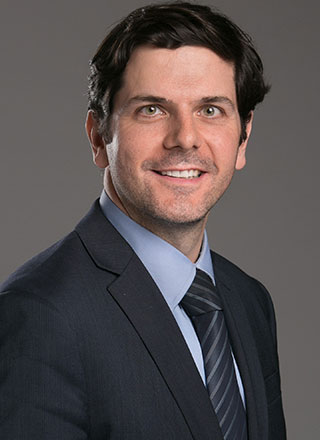 Peter Koroloff
Senior Counsel
1335 North Service Road East
Oakville, Ontario, L6H 1A7
Clerk
Education
Bachelor of Laws, Osgoode Hall Law School (2004)
Honours Bachelor of Arts, University of Toronto (2001)
Professional Accreditations and Affiliations
Canadian Bar Association
Ontario Bar Association
C.A.S.I.U.
About Lawyer
Peter Koroloff is a senior lawyer at the Oakville office.  He joined Aviva Trial Lawyers in October of 2014. Prior to this he worked at a prominent insurance defence boutique firm. In his time with Aviva, Peter has handled claims for the MCU, DAP, LMU, NLU and Fraud Management. His area of practice is tort litigation with a focus in motor vehicle accident claims and occupiers liability claims. Peter also has experience litigating other matters including property damage claims and Accident Benefits claims. As part of his practice, Peter routinely attends at Pre-Trial Conferences in Superior Court. Peter has conducted numerous motions in Superior Court, applications in Superior Court, mediations, settlement conferences, Examinations for Discovery, Examinations Under Oath (Statutory Accident Benefits claims and property damage claims), judgement-debtor examinations, Accident Benefits mediations and Accident Benefits pre-hearing conferences. Peter has appeared before numerous levels of courts and administrative bodies and tribunals in the province including the Superior Court of Justice, Small Claims Court and the Financial Services Commission of Ontario. Peter has conducted Superior Court trials as both lead counsel and second chair. Peter has some notable cases which include: Salihi v. TD General Insurance Company.
Notable Cases
Salihi v. TD General Insurance Company.
Personal Interests
In his spare time, Peter enjoys spending time with his wife and son and playing hockey. Peter's personal interests include real estate and sports collectibles.