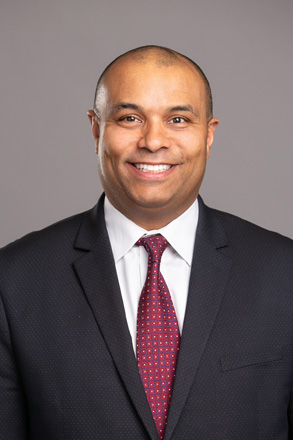 Olivier Guillaume
Senior Counsel
1335 North Service Road East
Oakville, Ontario, L6H 1A7
Clerk
Education
LL.B., University of Ottawa (2001)
B.A., University of Ottawa (1993)
About Lawyer
Olivier Guillaume is a Senior Litigation Counsel at the Oaville office having joined Aviva Trial Lawyers in May 2018. Prior to this, he worked as the Regional Senior Counsel at Coachman Insurance Company / SGI Canada for almost four years.
Prior to that, he spent 14 years at Borden Ladner Gervais LLP, first as a summer student, then articling student, associate and eventually partner. His area of practice is insurance defence. Olivier received a Business undergrad degree with majors in Marketing and Human Resource Management from the University of Ottawa in 1993. He went on to obtain a LLB in French from the University of Ottawa in 2001 and was called to the Ontario bar in 2002.
Olivier has appeared before many different courts and tribunals including the Ontario Court of Appeal, the Ontario Divisional Court, the Ontario Superior Court of Justice and the Financial Services Commission of Ontario.
Back in the fall of 2020, Olivier was the lead defence counsel in an eight week virtual civil trial where the plaintiff's action ended up getting dismissed on multiple liability grounds (Belton v. Spencer, 2021 ONSC 2029 (CanLII)). Other fairly recent reported cases consist of Kabutangana v. Coachman Insurance Company, 2017 ONSC 1594 (CanLII), Ismail v. Ismail, 2018 ONSC 6489 (CanLII), Wright v. 861467 Ontario Inc., 2020 ONSC 1274 (CanLII), Wright v. 861467 Ontario Inc., 2020 ONSC 5775 (CanLII) and Fraser v. Estate of Jeffrey Knowles, 2022 ONSC 2908 (CanLII). 
Olivier is a member of The Advocates' Society. He has written for the Law Times, Lawyers Weekly, Canadian Defence Lawyers and the Ontario Risk and Insurance Management Society's Pulse newsletter. Olivier prides himself on going the extra mile when representing his clients.
Notable Cases
Fraser v. Estate of Jeffrey Knowles, 2022 ONSC 2908 (CanLII)
Belton v. Spencer, 2021 ONSC 2029
Wright v. 861467 Ontario Inc., 2020 ONSC 5775 (CanLII)
Wright v. 861467 Ontario Inc., 2020 ONSC 1274 (CanLII)
Ismail v. Ismail, 2018 ONSC 6489
Kabutangana v. Coachman Insurance Company, 2017 ONSC 1594