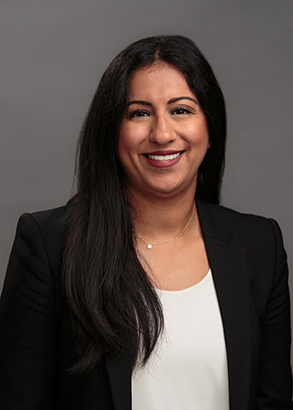 4800 – 100 King Street West
Toronto, Ontario, M5X 2A2
Clerk
Education
J.D., University of Windsor (2016)
B.A. in Religious Studies, McMaster University (2013)
B.A. in Economics, McMaster University (2012)
Professional Accreditations and Affiliations
Sports Lawyer Association
Toronto Lawyers Association
About Lawyer
Maya is Counsel at the Toronto office, having joined Aviva Trial Lawyers in October 2017 after being called to the Bar. She previously articled at a prominent, national personal injury firm in Toronto. Since becoming counsel, Maya has maintained a full insurance defence tort practice of auto, commercial liability and property damage clai

Maya has appeared at various levels of court in Ontario, including the Superior Court of Justice, the Ontario Court of Justice, and the Small Claims Court. She has also appeared in front of a variety of tribunals, including the Social Security Tribunal, the Landlord Tenant Board and the License Appeal Tribunal. Maya also has trial experience, having recently completed a judge-alone virtual trial during the pandemic.

Maya is active with Pro Bono Ontario, regularly volunteering with the Pro Bono Hotline, and at the clinics located at the Small Claims Court and Superior Court of Justice.

Personal Interests
Maya is an avid supporter of Toronto sports teams as well as the New England Patriots. She enjoys reading, travelling, playing the trumpet, and indoor rock climbing.