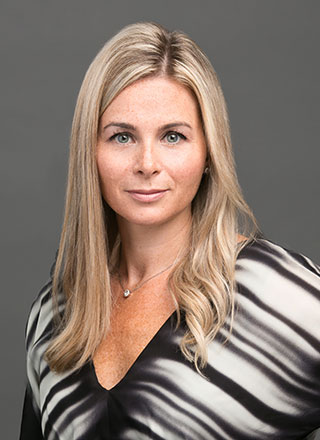 Lianne B. Furlong
Vice President, Legal & Chief Litigation Counsel
4800 – 100 King Street West
Toronto, Ontario, M5X 2A2
Clerk
Education
Bachelor of Laws, University of Saskatchewan, College of Law – (1999), Graduated "with distinction"- Class Standing: top 15%
Bachelor of Arts in English, University of Western Ontario, Huron College – (1996)
O.S.S.D., Havergal College – (1985 – 1992)
Professional Accreditations and Affiliations
University of Saskatchewan, College of Law - First place standing in Professional Responsibility
University of Saskatchewan, College of Law - Law Society Prize [Scholarship] in Professional Responsibility
University of Saskatchewan, College of Law - Second place standing in Family Law I
University of Saskatchewan, College of Law - P.E. MacKenzie Scholarship
University of Saskatchewan, College of Law - Member of the Saskatchewan Law Review Editorial Board
University of Saskatchewan, College of Law - Saskatchewan Law Review Honour
The Advocates' Society
The Canadian Bar Association
Canadian Defence Lawyers
About Lawyer
Lianne B. Furlong is the Vice President, Legal & Chief Litigation Counsel of Aviva Trial Lawyers. In this role, she is responsible for the performance of all offices nationally. From 2015-2017 Lianne was the Assistant Vice-President and National Managing Counsel of Aviva Trial Lawyers. Lianne joined Aviva as Counsel in April 2009 and later became Managing Counsel and Senior Managing Counsel in 2012 and 2013 respectively. Lianne was in private practice for 8 years before joining Aviva. In 1999, Lianne graduated, with distinction, from the University of Saskatchewan - College of Law. Since then, her legal experience has been exclusively in civil litigation, and in particular, in the area of insurance defence. She has appeared before the Ontario Court of Appeal and has conducted both jury and non-jury trials as co-counsel and lead counsel. In addition, Lianne has attended on numerous complex interlocutory and final motions. She has provided legal service to many insurance companies on a wide range of areas, including: motor vehicle tort actions, personal injury, property damage, subrogation claims, coverage issues, life and disability insurance issues, sexual assault, livestock coverage issues, condominium insurance claims, slip and fall claims, fire loss and fraudulent claims.
Notable Cases
Lockhard v. Quiroz, 2006 CanLII 81801 (ON CA)
Personal Interests
When out of the office, Lianne best enjoys time with her two amazing sons. She also keeps active with figure skating and both snow and water skiing.