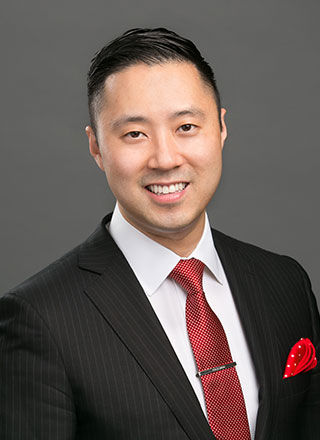 Dennis Ong
Senior Counsel
4800 – 100 King Street West
Toronto, Ontario, M5X 2A2
Clerk
Education
Bachelor of Laws (LL.B.), University of Windsor (2007)
Juris Doctor (J.D.), University of Detroit Mercy (2007)
Bachelor of Arts (B.A.), Anthropology & Archaeology, University of Western Ontario (2004)
Honours Bachelor of Arts (H.B.A.), Richard Ivey School of Business, University of Western Ontario (2003)
Professional Accreditations and Affiliations
Canadian Defence Lawyers
Canadian Bar Association
Ontario Bar Association
The Advocates' Society
Federation of Asian Canadian Lawyers (FACL)
Equality, Diversity and Inclusion Committee (Aviva Trial Lawyers)
About Lawyer
Dennis Ong is a Senior Litigation Counsel at the downtown Toronto office of Aviva Trial Lawyers.  He joined in February 2016.  Prior to this, Dennis practiced at a prominent insurance defence firm in Toronto.   Dennis received his undergraduate business degree (H.B.A.) from the Richard Ivey School of Business at the University of Western Ontario (now Western University) in 2003.  He went on to complete a dual law degree (J.D./LL.B.) from the University of Windsor/University of Detroit Mercy legal program in 2007, and was called to the Ontario Bar in 2008.   His area of practice has always been exclusively in the area of insurance defence litigation, with a specialized focus on Commercial General Liability, occupier's liability, motor vehicle accidents, property damage, municipal liability and insurance coverage litigation. 
Particularly, Dennis has developed a specialized expertise in litigation in the complex world of sporting law.  In this field, Dennis has represented provincial and national sporting bodies, local clubs, municipalities, private facilities, members, coaches, athletes and Directors & Officers to name a few.  Dennis has successfully represented numerous sporting bodies and their member clubs at trial and has a deep understanding of the complicated nature of lawsuits in the sporting world.  He is a go-to resource in the field of sporting litigation and is a fierce advocate for the implementation and continuation of safe and respectful sporting practices. 
Over the course of his career, Dennis has litigated both jury and non-jury cases, has conducted judge-alone and jury trials, appeals and has argued numerous complex long motions, including Summary Judgment, Rule 21 and coverage Applications.   He has successfully appeared before the Court of Appeal for Ontario, the Divisional Court, the Superior Court of Justice, the Ontario Court of Justice, the Small Claims Court, the Financial Services Commission of Ontario and the Workplace Safety and Insurance Appeals Tribunal.
Dennis is a prominent member of the Ontario Bar Association, and is the current Chair of the Insurance Section Executive.  Dennis has written extensively for numerous publications, including the Annual Review of Civil Litigation, Canadian Defence Lawyers, and publications through the Ontario Bar Association, to name a few.  Dennis also acts as a mentor with the Federation of Asian Canadian Lawyers (FACL) and is a frequent speaker on substantive legal topics, including but not limited to, occupiers' liability, summary judgment procedure, insurance coverage and appellate practice.   

Notable Cases
Spencer v. Omega General Insurance Company, 2022 ONSC 6908 (Divisional Court)
2748355 Canada Inc. v. Aviva Insurance Company of Canada, 2022 ONCA 667 (Ontario Court of Appeal)
Nufrio v. 1804603 Ontario Inc., 2022 ONSC 1183 (Divisional Court)
Vu v. Lyons Auto Body Ltd., 2021 ONSC 7480 (Divisional Court)
2748355 Can. Inc. v. Aviva, 2021 ONSC 7925
Wiet Peeters Farms Products Limited v. Construct 3 Limited, 2021 ONSC 6187
Turcanu v. Fitzpatrick, 2021 ONSC 7656
Hans v. 1774799 Ontario Ltd., [2021] O.J. No. 2729
Vu v. Lyons Auto Body Ltd., 2021 ONSC 4483
Municipality of Clarington et. al. v. Jeffrey Homes and Intact Insurance, et. al., 2021 ONSC 3887
Przyk v. Hamilton Retirement Group Ltd. (The Court at Rushdale), 2021 ONCA 267 (Ontario Court of Appeal)
Ribotta v. Thach, 2021 ONSC 3124
Peter B. Cozzi Professional Corporation v. Szot, 2020 ONSC 5986 (Divisional Court)
Peter B. Cozzi Professional Corporation v. Szot, 2020 ONCA 397 (Ontario Court of Appeal)
Aviva Insurance Company v. Wawanesa Mutual Insurance Company, 2019 ONCA 704 (Ontario Court of Appeal)
Peter B. Cozzi Professional Corporation v. Szot, 2019 ONSC 5071
Aviva v. Wawanesa, 2018 ONSC 5778
Brookstreet Hotel Corp. v. Economical Mutual Insurance Co., [2018] O.J. No. 122
Personal Interests
Dennis lives in the Greater Toronto Area with his wife, three daughters and their dog, Daisy.