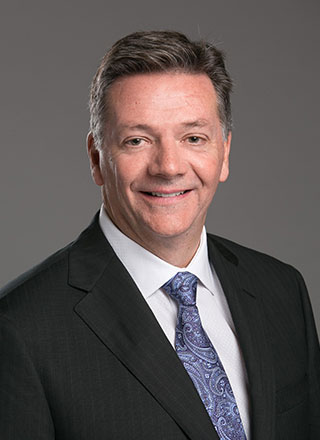 David Hicks
AVP, National Litigation Strategy Counsel
1900, 10130 – 103 Street NW
Edmonton, Alberta, T5J 3N9
Education
Bachelor of Laws, University of Alberta, with Distinction (1989)
About Lawyer
David Hicks is AVP National Counsel, Litigation Strategy. David's role involves both leadership of the Aviva Trial Lawyers' Regional Legal Team as well as active roles with Regional Casualty Claims and Government Relations.
David joined Aviva in 2001. In addition to his current role in Aviva Trial Lawyers David spent 9 years in casualty claims management and executive positions. Prior to joining Aviva David was in private practice handing insurance, administrative and labour litigation at a large Alberta firm, and also ran a mixed insurance / plaintiff injury practice at his own firm.
David has represented clients in trials and appeals at all levels of court in Alberta, as well as in Arbitrations and before various Administrative Tribunals. He has spoken and lectured frequently on insurance, litigation, employment and administrative law matters.  He has been a Bar Admission course instructor, as well as a Sessional Instructor and guest lecturer at the University of Alberta, in both the Faculties of Law and Business, winning or being nominated for a number of teaching excellence awards.
David has been a member of a number of professional and community boards, committees and regulatory bodies, including the Alberta Insurance Council, Alberta Life Insurance Council, the Real Estate Council of Alberta, and the Law Society of Alberta. He is currently Vice Chair of the Board of Directors of the Alberta Insurance Council; a professional disciplinary Hearing Panel member for the Real Estate Council of Alberta; and he is Chair of the Adjusters Insurance Council of Alberta.
Personal Interests
In his off time, David enjoys golf, cycling, running, kayaking, and travelling with his family.