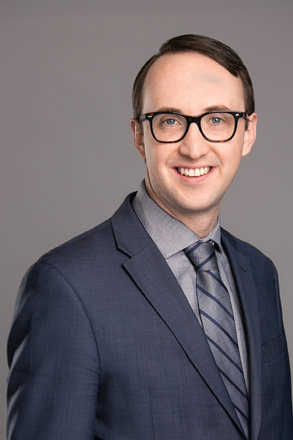 Christopher Missiuna
Senior Counsel
1335 North Service Road East
Oakville, Ontario, L6H 1A7
Clerk
Bar Admissions
Law Society of Ontario (2011)
Education
J.D., Queen's University (2010)
B.J. Hon., Carleton University (2007)
Professional Accreditations and Affiliations
CBC's The National
Certificate in International Business Law, Bader International Study Centre (UK) (2008)
Canadian Defence Lawyers
About Lawyer
Christopher Missiuna is a senior lawyer at the Oakville office having joined Aviva Trial Lawyers in 2018.  Prior to this he worked at an insurance defence firm in downtown Toronto specializing in both insurance defence and statutory accident benefits as well as the occasional claim for personal injury.  Christopher received a Bachelor of Journalism from Carleton University in 2007.  He went on to obtain a JD from Queen's University and a Certificate in International Business Law from the Bader International Study Centre (UK).  Christopher has worked on both jury and nonjury cases and appeared before Ontario's Superior Court of Justice, the Licence Appeal Tribunal, the Financial Services Commission of Ontario, the Small Claims Court, and the Landlord and Tenant Board.  While at Queen's he graduated on the Dean's List (top 10%) and was awarded the David Sabbath Prize in legal research and the R.W. Leonard Prize in Children's Law.
Notable Cases
• Jennings v Latendresse, 2012 ONSC 6982 (CanLII) – A Jury Trial where Christopher appeared as Second Chair (not listed) which advanced a successful threshold Motion.
• Yelda v Vu, 2013 ONSC 4973 (CanLII) – A successful Motion for Summary Judgment in an MVA case
• Mitchell v Jeckovich, 2013 ONSC 7494 (CanLII) – Concerning jurisdiction of Ontario Courts in an MVA case.
• Guo v Lam et al, [2016] Unreported – Successfully sought security for costs.
• Lillian Szilagy and Intact Insurance Company, FSCO 14-010214 (Arbitrator Gueller, July 10, 2017) – A successful Arbitration dismissing the open claims.
Personal Interests
Christopher's personal interests focus on travel.  He is a skier and is proficient in French.  During his time at Carleton University he was a Medical First Responder at the campus and continued as a First Aid Instructor with St. John Ambulance to 2013.  He can also be encouraged into a vigorous discussion with his 4-year-old daughter (and adults) about all things Disney.