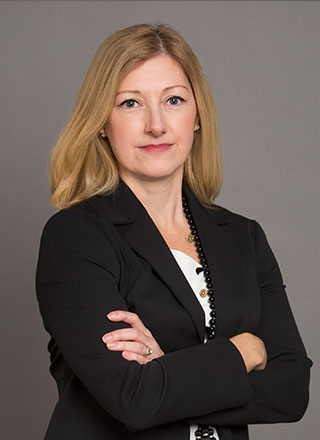 Christina Stewart
Senior Counsel
4800 – 100 King Street West
Toronto, Ontario, M5X 2A2
Clerk
Education
J.D., Queen's University (2008)
B.A., University of Calgary
Professional Accreditations and Affiliations
Canadian Bar Association
Ontario Bar Association
Advocates' Society
About Lawyer
Christina (Chris) Stewart is litigation counsel in the Toronto office of Aviva Trial Lawyers.  She joined Aviva Trial Lawyers in November 2017.  Prior to this, she spent 8 years as litigation counsel at Beard Winter LLP.  In 2009, she was called to the Bar in Ontario.  Chris practices civil litigation with an emphasis on personal injury and CGL policy claims.  Chris also has experience in privacy law, and has presented seminars on the topic to Aviva casualty claims staff.  She also has experience in class actions, disability, life, health and travel claims.  At Aviva, she handles mainly MCU and NLU files, including claims against policies with a high SIR as well as Ovation policies. 
Chris received her undergraduate degree from the University of Calgary, where she specialized in Mesoamerican Archaeology before obtaining her Juris Doctorate from Queen's University.  Chris has courtroom and tribunal experience at multiple levels, including the Court of Appeal.   She ran what may be the longest Small Claims Court Trial in Ontario, lasting 13 days spread over 2.5 years.  Reported decisions include Farmer v. 145 King Street West (upheld at the Court of Appeal) and Nagarajah v. Simmons.   In July 2018, Chris successfully advanced her client's position in Shekarchi v. Brocke, in which the Court agreed that the Plaintiff's reference in a Statement of Claim to Highway Traffic Act charges, and other allegedly illegal maneuvers in a motor vehicle accident, were prejudicial to her client and were struck from the pleading.  The action was later dismissed in entirety, with costs awarded to the Aviva insured.
Currently, Chris co-chairs the Aviva Duty Counsel (Markham) project and continues to provide seminars to claims staff. 
Chris' personal interests include travel, ancient history, art and foraging for wild food.    
Notable Cases
Farmer v. 145 King Street West: obtained an Order dismissing a Plaintiff's claim for delay and failure to comply with an Order (which was upheld at the Court of Appeal)
Nagarajah v. Simmons: successfully opposed the setting aside of a Registrar's Dismissal Order
Shekarchi v. Brocke: obtained an Order striking portions of the Statement of Claim which referenced Highway Traffic Act charges as well as other prejudicial and self-serving statements regarding the motor vehicle accident
Personal Interests
Chris' personal interests include travel, history, art and adventures with her young daughter.