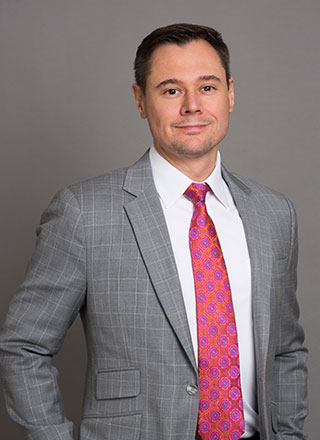 Thomas Hughes
Senior Counsel
4800 – 100 King Street West
Toronto, Ontario, M5X 2A2
Clerk
Education
LL.B., Osgoode Hall (2008)
B.A., Royal Military College, Military and Strategic Studies (1996)
Professional Accreditations and Affiliations
Ontario Bar Association
The Advocate's Society
About Lawyer
Tom Hughes is Senior Counsel. Tom joined Aviva Trial Lawyers in June 2017. Prior to this he worked at Zarek Taylor Grossman Hanrahan LLP. Before his legal career, Tom was an officer in the Canadian Army, with overseas tours in Afghanistan and Bosnia. His area of practice includes accident benefits with a focus in loss transfer, priority and fraud investigation. He has appeared before all levels of court in Ontario, and argued cases before the Human Rights Tribunal, the Financial Services Commission and the Licence Appeal Tribunal.
Tom has spoken at the 2016 Canadian Defence Lawyers conference on Extra Contractual Damages and the LAT, and the 2017 Canadian Independent Adjusters Association on the issues that keep adjusters up at night. He is the author of the 2015-2017 Thomson Reuters Practical Law Canada guide to Examinations Under Oath.   

Notable Cases
Dominion v. Aviva Canada et al., 2015 ONSC 6195 (CanLII)
Green v. Belair, A11-000765, Green v. Belair (Appeal) P15-00007
McDonald v. State Farm 2015 ONSC 2607
Economical v. Wawanesa (Arbitrator Samis, May 2014)
Kim v. 260 Welsley, et al, 2013 ONSC 6831 (aff'd at Div Court)
Intact v. TD (Arbitrator Densem, September 2013)
Personal Interests
Tom has summited Kilimanjaro, swam in the Amazon, trekked the Sahara, hiked in Kashmir and been on safari on the Serengeti.